Like This!
So you've found a rusting heap of metal in the woods and you think it's an old moonshine still. But how can you tell?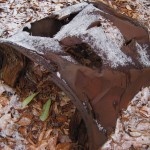 Since most moonshine operations are decades old, you'll typically only find rusting, decaying piles of sheet metal, bits of wood, jars, and containers. Because there is so much garbage in the woods, it can be difficult to tell the difference between an old moonshine still and an illegal dump site. Take, for example, the photo to the right. Is it simply a piece of garbage, or is it a moonshine still?
The first thing you need to realize is that you're not going to find an intact copper still. Since copper is such a valuable metal, you won't find the classic copper moonshine still like those pictured in the header of this website. Those are long gone, removed by either the original owner or seized by the law.
You will however find sheet metal stills which were much cheaper to build and much more common in the later part of the 20th Century. But these can be decades old and most will be unrecognizable. When you find what you think is an old moonshine operation, you might have to piece clues together, like a forensic scientist, to determine if it really is a still.
Here are 5 things to look for to determine if that pile of junk you've found is really a moonshine still. (Click the pictures below for the larger versions.)
Is It Near Water?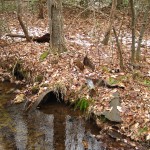 Cool running water is absolutely essential to make liquor. The hot alcohol vapor coming out of the still contains quite a bit of heat energy and you need a constant source of cool water to condense it into moonshine. The heat from the condenser, or worm, will quickly boil the cooling water if it's not continuously refreshed. That's why the vast majority of moonshine stills were located next to creeks. If they weren't next to a creek, then the moonshiner would have to pump water to the still. I have only found one still that wasn't located directly next to a stream. It was a couple of hundred feet away from the nearest creek and the operators must have pumped the water up to the still. Most stills are found right next to the creek, almost in the creek itself. So the first thing you need to consider when determining if a pile of scrap is a moonshine still is its location: is it located very close to flowing water?
Supporting Cast of Characters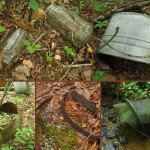 What kind of trash is in close proximity to your alleged moonshine still? Think about what other materials might have been used to make backwoods whiskey. Mason jars are a dead giveaway. Rusting barrel hoops from long gone mash barrels are another clear indication. Some modern moonshiners used plastic milk jugs. (Supposedly there's and old still site not far from my home where the trees are littered with plastic milk jugs from the revenuers dynamiting the still.) You might find buckets around an old still site, especially old galvanized buckets. Look for pipes. Also, look for large wooden boxes, the flake stand which held the condenser and wooden tables which might have held parts of the operation. This type of trash found next to a suspect still is great supporting evidence that will help to establish if your trash is actually a still.
The Still Furnace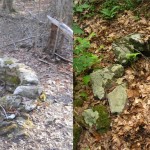 The other major supporting cast member is the still furnace. The boiler sat surrounded by a rock furnace which was usually "U" shaped. Rock from the creek was mostly used to build the furnace, but sometimes the moonshiners would haul cinder blocks or bricks out into the woods. The remains of a still furnace are a clear indication that the pile of rusting metal you found is a moonshine still. In fact, if you find a "U" shaped pile of rocks next to a stream, even by itself, then you can be certain that someone was running moonshine at that spot.
Axe Marks
When revenue officers discovered a moonshine operation, they would "cut down" the still. Everything was destroyed or made unusable. The revenuers would chop holes in the still with an axe. Mason jars were shattered. They smashed the flake stand. All of the copper – the cap, the pipes, the worm – were all seized and later sold for scrap.
If you find a rusting piece of sheet metal in the woods with axe marks in it, that's a sure sign that it's an old still.
One other way that the law destroyed stills was to blow them up with dynamite. If you find a large piece of sheet metal that looks like it was ripped apart, then it might be a still that was blown up by the revenuers.
The Still Design
And lastly, what does the still look like? Like I said earlier, you will not find the classic copper moonshine still sitting in the woods. Just like the value of the modern day metal, copper was a very expensive commodity. A 50 gallon copper still today will cost close to $1000 to build. It would have been just as expensive to build forty years ago, relative to inflation of course. The point being that copper is not going to be left in the woods. If a moonshiner built a copper still and ran it successfully without getting caught, he would certainly take it back home with him when he was done running it. A copper still was much too valuable to just leave sitting in the woods. Many of the earlier copper stills were used for decades, passed on from generation to generation. And if the revenuers found a still in the woods, the law would take all of the copper and sell it for scrap. Even just the copper condenser would fetch $100 at the scrap yard in today's dollars. So, you're not going to find any copper stills sitting out in the woods.
What you will find are sheet metal stills. During Prohibition the demand for moonshine increased dramatically and moonshiners started mass producing hooch in large sheet metal stills, capable of distilling hundreds of gallons at a time. Most of the stills built in the later part of the 20th century were of the sheet metal variety.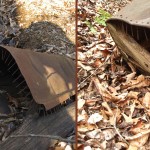 There are two main types of sheet metal moonshine stills: the submarine still, and the groundhog still. Both use a combination of sheet metal, wood, and nails. Submarine stills, like this one found in Virginia, have wooden sides. Groundhog stills, like the one in this video, have a wooden top and bottom.
So what do you look for? If you find a piece of sheet metal that has hundreds of nails along the edges, then that is most likely a still. If you find bits of wood or boards still attached then that is even more proof that you've found a moonshine still.
Putting It All Together
So let's go back to the example from the very first photo. Is this a moonshine still? Yes, it is. It's actually the first still that I found. You can see more photos of it here. If you read the post and look at the pictures, you'll see that 1) it's located next to a creek, 2) there's quite a bit of "supporting" trash – mason jars, buckets, pipes, and barrel hoops 3) it has a distinct still furnace 4) everything is axed – the still and even the buckets 5) the sheet metal has wooden sides nailed to it.
What Have You Found?
I'd love to hear about any stills that you've found in the woods. Please leave a comment below describing your find!