Like This!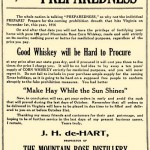 At the turn of the last century there were many legal distilleries in Southwest Virginia. In Franklin County, Virginia alone there were 77 legal distilleries. Unfortunately, Prohibition put an end to Virginia's legal whiskey industry. One of the operations forced out of business was the Dehart Distillery, producer of Mountain Rose Corn Whiskey. The flyer on the right was printed in 1916 by Dehart just before the start of prohibition in Virginia. It warns consumers to stock up on it's whiskey before the coming prohibition.
The site of one of Dehart's distilleries was located in Philpott, Virginia. I'm quite familiar with the area since my friends and I raft the Smith River below the Philpott Dam. I've also found old moonshine stills in the area. I got a tip that the old distillery was located in one of the hollows below the dam.
My goal was to find the remains of the old distillery and to find any old moonshine stills that would inevitably be located along the creek. I wasn't exactly sure how accurate the information about the location of the distillery was. There are a few creeks that feed the Smith River below Philpott Dam, so I just picked one and started walking upstream.
Within a couple hundred yards, I came across the confluence of two creeks which created a flat level area – the perfect location to put a moonshine still. Of course that's exactly what somebody did. There were mason jars everywhere, rusting metal buckets, and lots of debris from a moonshining operation. I found what appeared to be a boiler, but I couldn't be 100% certain.
Continuing up the creek, I found the remains of an old building. The chimney was all that was left of the structure, the rest having rotted away long ago. This may have been the Dehart Distillery, which was in operation up until about 1917, but there weren't any other clues to indicate what the structure was. I'm not 100% certain that this was in fact the old Dehart Distillery. It might have been just an old house. I'll have to do a little more research to confirm it.
Sitting next to the remains of the old building was a literal toxic waste dump. Quite a few 55 gallon drums sat rusting away. The drums, which were labeled Eastman Chemical Company, were in various states of decay. Some of them had already leaked all of their contents into the ground (and presumably into the creek,) while others were still filled to the top with some greenish chemical goodness.
Continuing up the creek, I pushed my way through laurel thickets as the terrain got steeper. I finally came to the source of the creek, which – surprise – had an old moonshine still rusting in the creek. There wasn't much left of the still, but it was obviously an old submarine still (because of all the nails.)